La Via Campesina South Asia comprises more than 14 peasant movements across Nepal, Bangladesh, Srilanka, Pakistan, and India. This newsletter, issued quarterly, is a collective effort of all the members to highlight important news and events in the region.

INTRODUCTION

Hello readers! The second edition of La Via Campesina South Asia's newsletter is coming out at a time when WHO has warned the world that fights against the COVID 19 is heading in the wrong direction. The International body has acknowledged that the pandemic is here to stay for long. It has expressed concerns that the mixed messages being sent out by countries are indeed derailing the efforts to control the virus.


During April and May members of La Via Campesina in South Asia, and around the world had highlighted how a pandemic of this nature disproportionately affects the migrant workers, small-scale food producers, women, and the elderly everywhere. Our members in India, Srilanka, Nepal, Pakistan, and Bangladesh have issued repeated warnings to their governments about the urgent need to support the rural economy, which is now at the brink of collapse as unemployment rates are shooting through the roof.


Over the years, different government policies that neglected the rural agrarian realities have led to agriculture becoming input-dependent, costly, and unviable for many of the rural families. Our movements here have, for long, been warning that an economic development model that functioned with the logic of a competitive global free market can seriously endanger a country's food sovereignty.


Over the last two decades, peasant organizations and allied activists have been calling for a rural agrarian policy that is rooted in sustainable local systems of food production. They have also demanded local and renewable forms of energy generation, and land redistribution and land use that respects the principles of agroecology and the fundamental needs of local communities. Instead, governments decided to vouch for a free market economy that turned cities into the main engines of the global economy. They chose to neglect the rural areas and left millions, if not billions, of rural families around the world to fend for themselves. Today, the pandemic has exposed the limitations of that city-centric capitalist model of economic development. It has reminded us that an economy built on people's solidarity is what we need in times like this. There is still time to mend our ways. In the coming months, our movements in South Asia will put all our energies to ensure that we rebuild a society that is just and equal, and not go back to business as usual.


Rajegowda, Anuka and Parmesh
ICC members from La Via Campesina South Asia
Latest News
#17April-International Day of Peasants' Struggle- Highlights
Press Release| Harare: On 17 April 2020 – the International Day of Peasants' Struggle – La Via Campesina will keep alive the memory of #EldoradoDosCarajás in Brazil and our continued fight against Corporate and State impunity. The COVID-19 crisis shows us that now is the moment to demand structural reforms of the agri-food systems at a global level.
Highlights from the South Asia region
India: Social Movements upset that the government is exploiting the pandemic to push through corporate-friendly reforms
Since India went into a strict lock-down in late March this year, the national ruling government has brought in a slew of legislation, policy measures and ordinances that proclaim to relax existing laws around land acquisition, labour rights and agricultural commodities.
Millennium Challenge Corporation: South Asian peasant movements warn US-backed aid agency threatens national, people's sovereignty
The Millennium Challenge Corporation (MCC) is a bilateral United States' foreign assistance agency' established by the US Congress in 2004. In a strongly-worded statement reproduced below, La Via Campesina South Asia has denounced the MCC compact that is currently underway in Nepal and Srilanka.
Roots of Food Crisis in Pakistan
Millions of Pakistanis have been pushed into hunger with the COVID-19 lockdown. The first cases of COVID-19 began to be diagnosed in Pakistan in the midst of a two-year assault on the country's economy by the Pakistan Tehreek-e-Insaf (PTI) government. Prime Minister Imran Khan, whose tenure had already been responsible for over a million jobs lost across the country[1], began to play the populist card: Pakistan's poor cannot afford a lockdown.
The Millennium Challenge Corporation (MCC) Compact is a threat to people's sovereignty – MONLAR
Sri Lanka was almost close to signing the 480-million-U.S. dollar deal with the U.S. government-funded Millennium Challenge Corporation (MCC). Srilanka's civil society and peoples' movements claim that the MCC is an instrument of new-type imperialism pursuing economic hegemony over more impoverished countries.

01 May 2020: Building Solidarity, Resistance and Hope among peoples
This #MayDay, as La Via Campesina, we reaffirm that workers' rights are also peasants rights!

Harassment observed in the context of the COVID-19 pandemic adds to the violence historically perpetrated against our peoples.
The solution to food insecurity is food sovereignty
Human society faces a moment of reckoning. The coronavirus pandemic has brought humanity to its knees and bared its many faultlines. No country has been spared.


As the world reels under the fallout of a pandemic, now is the time to start building an equal, just and liberal society that embraces food sovereignty and solidarity.
Also available to read in
On World Environment Day – Why do we regard an integral and popular agrarian reform as a matter of urgency?
Today peasants, indigenous peoples, farm workers, landless peasants, fisherfolk, consumers, women, and young people worldwide face difficult challenges. Increasingly, in the four corners of the planet, people are feeling the effect of the growing imposition of financial and market paradigms on every facet of their lives.
Will The Farmers' Produce Trade And Commerce (Promotion And Facilitation) Ordinance 2020 Be A Game-Changer For Indian Farmers?
As part of the so-called "historic" agricultural reforms package, using the Covid-19 scenario as an opening for this and riding rough-shod over federal polity in India, the Government of India has announced some major changes in the statutory frameworks governing agricultural marketing in India.
Karnataka farmers protest against pro-corporate market reforms
Agriculture policy analysts fear that the move to dilute the APMC Act and abolish the Essential Commodities Act points to increasing footprints of the corporate sector, which could open the doors to expansive contract farming and the corporatization of food supply chains.
Karnataka: KRRS members stage statewide protest opposing amendments to Land Reforms Act
Since the time Karnataka government announced that it would bring amendments to the Karnataka Land Reforms Act-1961, thousands of farmers organized under the Karnataka Rajya Raitha Sangha, and Hasiru Sene (KRRS) are protesting against the government's move throughout the state.
Nepal: Now is time for Socialist Economic Reforms
The COVID-19 pandemic has given a few messages to the world. The countries with centralised public services, public healthcare system, planned economy, and better public policies such as China, Cuba, Vietnam, and Kerala state of India are dealing it more effectively than
Karnataka: Rural women protest demanding blanket ban on liquor sales
Women across the state took to postal protest, with nearly thousands of rural women
sending money orders to chief minister demanding a blanket ban on sale of liquor in the state.


Women peasants of KRRS, Amritabhoomi and from different organisations took part in 'Alcohol Prohibition Campaign', a state wide campaign launched by Madhya Nisheda Andolana
Sri Lanka : Social Movements and grassroots womens organisation demand abolition of micro loans
Microfinance is driving many rural borrowers to despair amidst pandemic in Srilanka. Predatory micro loans have pushed more than 2.4 million women across the country into a debt trap.


Important Publications by LVC and allies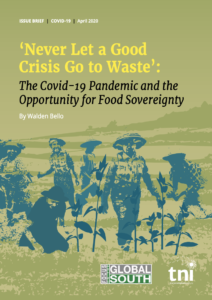 Focus on the Global South & TNI